Special Offers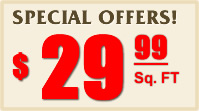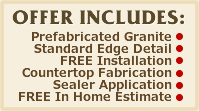 Prefabricated granite countertops have the same great look as custom granite countertops but at lower prices. Prefabricated countertops are made from the same granite material as any other custom made countertop, the difference is that we pre-cut the granite slabs into pieces of 9' x 2' and fabricate Standard Bullnose edge detail, with 6" backsplash. The material is still the same granite as any other natural granite you can imagine; only the most popular colors are available on prefabricated countertops. Prefabricated countertops are a very economical option to your countertop projects, ideal for:
Commercial granite countertop projects
Real Estate developers
Real Estate flip over

Starter homes

Your own home
We could have your prefabricated countertops installed faster than any other leading fabricators in the industry call us now to find out more.
We have the best prices in the industry for Prefabricated Granite Countertops, this Special Offer includes:
Countertop fabrication
Countertop delivery
Countertop professional installation
Countertop sealer, and ready to be used
Click here for an online estimate